JOIN US for a live Fairtrade family cooking competition & show, with a chance to win a Fairtrade hamper. #Fairtradebrightonandhomebakes
ABOUT THIS EVENT
HOW TO ENTER: WIN A HAMPER OF FAIRTRADE PRIZES
1. Cook a recipe with 3+ Fairtrade ingredients at home (with your team).
2. Take a photo of your bake and your home baker(s).
3. Send us
A photo
The recipe
And tell us WHY you think Fair Trade is important
4. Send us your entry before 12pm on March 5th, to one of the following: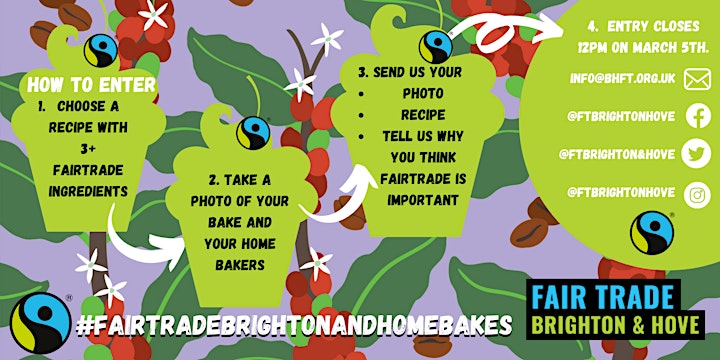 OUR EVENT:
We are hosting our livestream event on Saturday March 6th at 11am via zoom.
Featuring guest judges, local businesses and you! Join us for a Fairtrade brunch. Cook along and enjoy your Fairtrade baking whilst we host a quiz, interviews, talks + more.
HAVE FUN EVERYONE AND FOR INSPIRATION PLEASE VISIT:
Visit your local supermarkets including Infinity Foods, The Co-operative and HISBE for Fairtrade produce.
BRIGHTON AND HOVE FAIR TRADE STEERING GROUP | [email protected]